The Impakt Safety Two mats are used with traditional ice hockey boards by placing the mats directly on the ice. The padding is of new generation after lots of studies and prototypes by taking in consideration the basic materials and inside structure of the "Impakt Safety One" moveable mats. The main challenge was to achieve high protection results by reducing the width taking also in consideration that a rigid surface would remain behind the mats. Although the result of protection is reduced compared to the moveable system these mats have reached an enhancement of 38% compared to the present standard mats recommended in the ISU communication. This therefore guarantees a high improvement of safety for the athletes.
In order to fit the usual needs and width to which all the athletes are used, the size was reduced to 40 cm whilst the height (120cm) and length (200cm) remain the same as well as the inside structure and the air extrusion through a net on top of the mats.
Each single mat is connected through velcro straps and the placement is extremely simple. All the mats can remain for very long periods in direct contact with the cold ice surface without altering the specific protection features. Customized mats for entry and exit doors are available and the specific layout and the exact number of mats is established on a drawings of the single ice rinks.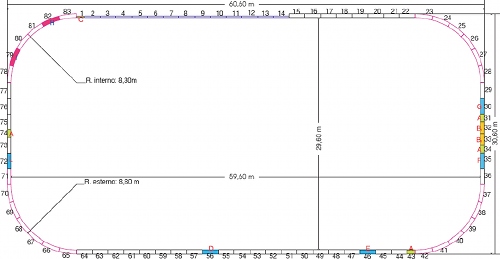 The mats in the corners are shaped to lean against ice hockey boards as well as all the other rectangular mats.